Les sédiments des lacs de la région de Niamey : mémoire de l'évolution récente (50 ans) du milieu sahélien ?
Recent lakes appeared in the vicinity of Niamey in response to environmental changes in Sahel are good recorders of recent climate dynamics. This work is a preliminary analysis of sediments cored in a recent lake (<50 years) aiming to understand the effects of global change and human pressure on its watershed. In the long term, it should produce a paleoenvironmental model to interpret similar oldest lake sediments in the same area. The BK-08-02 core was setting apart in the lake Bangou Kirey (N13°30' E2°13') with a UWITEC corer. XRF, spectrophotometry, micro-particle size analysis and magnetic susceptibility were applied to the core. Laminated sediments from Bangou Kirey shows a good time resolution since sediment fluxes are higher than 2 cm yr-1. The lamination is supposed to correspond to seasonal and intra-seasonal dynamics of sediment flux. The increase of rainy season layer thickness on the top of the core should indicate an increase in runoff intensity linked to anthropogenic impact on natural vegetation.
Les lacs récents, apparus dans la région de Niamey en réponse aux changements environnementaux du Sahel, constituent des enregistreurs du climat de ces dernières décennies. Ce travail est une analyse préliminaire des sédiments piégés dans un lac récent (<50 ans) de la région de Niamey (SW Niger) afin de comprendre la réponse de son bassin versant aux changements combinés de l'occupation des sols et du climat. A terme, il vise à produire un modèle permettant d'interpréter des dépôts similaires plus anciens. La carotte BK-08-02 a ainsi été prélevée dans le lac de Bangou Kirey (13°30'N 2°13' E) à l'aide du carottier UWITEC. Elle mesure 125 cm et a fait l'objet de plusieurs analyses : XRF, spectrocolorimétrie, micro-granulométrie, susceptibilité magnétique. Les sédiments du lac de Bangou Kirey présentent a priori une bonne résolution temporelle grâce à un taux de sédimentation supérieur à 2 cm.an-1. Le sédiment laminé de la carotte traduirait une dynamique saisonnière et intra-saisonnière des flux sédimentaires. L'augmentation de l'épaisseur des lamines de saison pluvieuse en haut de la carotte révèlerait l'impact de l'Homme sur le milieu. L'importante dégradation du couvert végétal aurait induit une augmentation du ruissellement alors même que la pluviométrie diminuait.
Fichier principal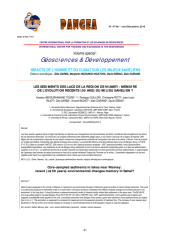 2010 Toure,...Petit, ... lac recent biger Pangea.pdf (707.91 Ko)
Télécharger le fichier